BRAND NEW RARE OOP CODE RED WEEKEND MURDERS GIALLO HORROR MOVIE BLU RAY 1972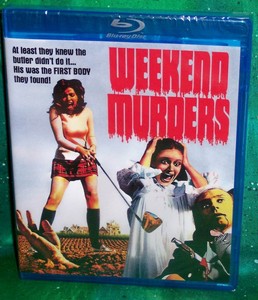 ---
BRAND NEW RARE OOP CODE RED WEEKEND MURDERS GIALLO HORROR MOVIE BLU RAY 1972
DESCRIPTION:

BRAND NEW RARE OOP CODE RED WEEKEND MURDERS GIALLO HORROR MOVIE BLU RAY 1972

THIS AUCTION IS FOR A BRAND NEW IN THE ORIGINAL SHRINK WRAP 1 DISC BLU RAY.  THE OUTER PACKAGE IS FACTORY  SEALED. THE OUTER PACKAGE LOOKS NEW.  THE ITEM SHOWN IN THE PICTURE IS MY STOCK PHOTO AND IS FOR REFERENCE ONLY. (HAVE MORE THAN ONE TO SELL) THIS MOVIE IS ALSO A RETIRED AND OUT OF PRINT EDITION.

BE CAREFUL OF CHEAP IMPORTS OTHER PEOPLE ARE SELLING. THIS IS THE REAL DEAL USA VERSION DVD. SHIPPING CAN BE COMBINED ON MULTIPLE WINS. THIS IS AN ORIGINAL USA COPY AND IS NOT A BOOTLEG DVD. THIS SET IS FROM A SMOKE-FREE HOME. SO BE SURE TO CHECK MY OTHER AUCTIONS AND COMBINE SHIPPING. I AM ALSO LISTING LOTS OF DVD MOVIES AND TV SHOWS ON DVD ALONG WITH MUSIC CDS. GET THESE GREAT SETS NOW FOR YOUR COLLECTION.

IN THIS AUCTION YOU ARE BIDDING ON:

BRAND NEW RARE OOP CODE RED WEEKEND MURDERS GIALLO HORROR MOVIE BLU RAY 1972

There is no UPC code as this was a Code Red exclusive item. #09 in the series. This edition is also a retired and out of print Blu Ray.  Description:

A large English family meet at the family estate for the reading of their father's  will. Each expects to be the recipient of a tidy sum. But apart from the local constable (Gaston Moschin, GODFATHER 2 ) and a few other small awards to the help, the entire estate goes to the favorite daughter(Anna Moffo). No sooner than the will is read, murder is done. First the butler, then several members of the family! The local constable is joined by a Scotland Yard inspector (Lance Percival), who sees it as an open and shut case. However, it does not turn out that way, in this giallo directed by Michele Lupo and also starring Peter Baldwin (THE GHOST),Eveline Stewart (KILL BABY KILL) and Giacomo Rossi-Stewart (NIGHT EVELYN CAME OUT OF THE GRAVE), Code Red is proud to present this in widescreen, from a HiDef master. FIRST TIME ON HOME VIDEO

ENGLISH LANGUAGE VERSION A large English family meet at the family estate for the reading of their father's will. Each expects to be the recipient of a tidy sum. But apart from the local constable (Gaston Moschin, Godfather 2) and a few other small awards to the help, the entire estate goes to the favorite daughter (Anna Moffo). No sooner than the will is read, murder is done. First the butler, then several members of the family! The local constable is joined by a Scotland Yard inspector (Lance Percival), who sees it as an open and shut case. However, it does not turn out that way, in this giallo directed by Michele Lupo and also starring Peter Baldwin (I Married A Monster From Outer Space), Eveline Stewart (Kill Baby Kill) and Giacomo Rossi-Stewart (Night Evelyn Came Out Of The Grave). Code Red is proud to present this in widescreen, from a brand new 2015 2k scan Hi-Def master
Special Features:
On camera interview with Peter Baldwin

Audio commentary with Peter Baldwin

Original Trailer

ONLY 1000-PRESSED

 

THIS EDITION INCLUDES:

Format: Color 2.35:1  (Widescreen) Region: A (USA and Canada) Language: English Number of discs: 1 Rated: R Studio: Code Red Run Time: 98 minutes Status: Retired and out of Print

 

SHIPPING INFORMATION:

FREE USA SHIPPING VIA USPS FIRST CLASS SHIPPING WITH DELIVERY CONFIRMATION. SHIPPING TO CANADA IS $10.00. ALL OF MY ITEMS ARE ALSO FROM A SMOKE-FREE HOME.

See my other listings for more great items!
PAYMENT INFORMATION
Accepted Payments
PayPal
Payment upon pickup of item locally.
SHIPPING INFORMATION
Standard Shipping Rates
I ship to USA and Canada.
.
I am not responsible for duties, taxes or other fees associated with shipping.
SHIPPING DISCOUNTS
I am happy to combine shipping on MOST items for multiple purchases to reduce total shipping charges. Each item description indicates shipping discount eligibility status.
RETURN POLICY
Due to shady people taking advantage of the return policy. I NO LONGER accept returns, until starts to back their sellers.
| | | | |
| --- | --- | --- | --- |
| Other Items | Feedback | Contact | Store |
txzj pxzj34871 txzj111